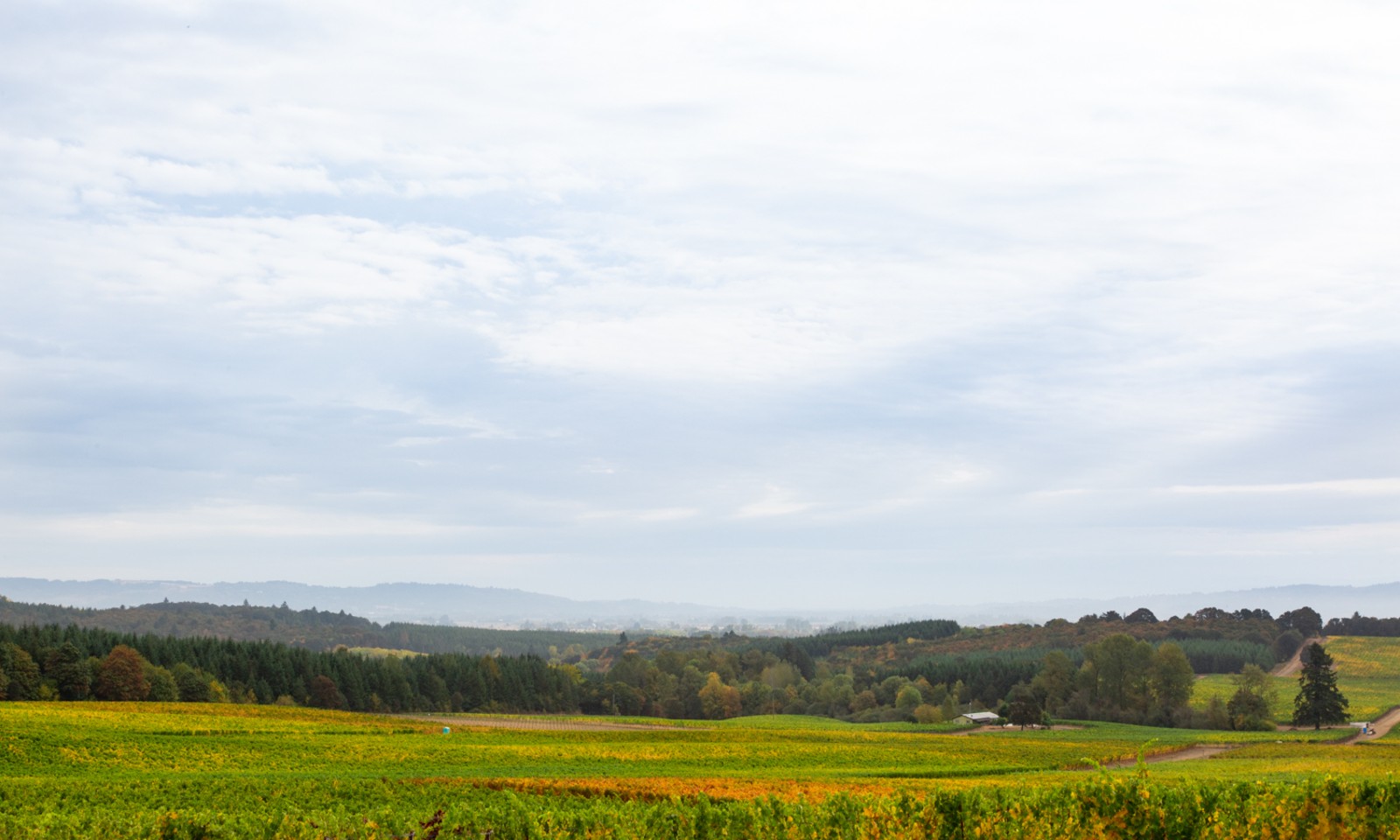 OUR VINEYARD PARTNERS
---
TOGETHER We Grow CELEBRATION
We've partnered with some of the most respected growers in the region with the common goal of producing unique wines that express variety and distinction, while honoring the land where they are grown. Learn more about the people with whom we work and the places our wine begins.
---
Ciel Du Cheval

---

People: Jim Holmes, Richard Holmes - Grower/Owners
Location: Red Mountain AVA
Varietals: Sangiovese (VCR6 Clone), Nebbiolo, Cabernet Franc & Petit Verdot

Acreage under production: 100

Soil: Scootney Series, a sandy loam

Year planted: 1975
---
Planted in 1975, Ciel du Cheval Vineyard can certainly lay claim to being one of the oldest vineyards in the Red Mountain AVA. Grower/owner Jim Holmes could easily rest on the vineyard's historic reputation; instead he, his son Richard, and their crew consistently push forward in growing some of the most sought-after grapes in the Pacific Northwest.  

The Red Mountain AVA encompasses a southwest-facing slope in south central Washington and, with a mere 7-inches of rainfall per year, is the driest wine-grape growing region in Washington. While the AVA is often noted for its 90°F daytime temperature averages during the growing season (with highs frequently reaching into triple digits), it is less well-known for the huge diurnal swings bringing temperatures back down into the 50°F range overnight. These pronounced temperature variations allow the fruit to establish full, ripe, flavors and sugars, while retaining sterling acids for structure and balance.  

Ciel du Cheval has been a part of the Cana's Feast label since 1996, producing nothing but the highest quality Nebbiolo, Cabernet Franc, and Petit Verdot. However, it is our flagship Sangiovese Grosso grapes from Ciel du Cheval that may be the most notable. The specific Sangiovese that Cana's Feast sources from Ciel du Cheval is the Brunello clone, technically known as VCR-6 (Vivai Cooperativi Rauscedo), or Grosso di Montalcino ("Grosso" meaning "large" in Italian.) In 1998, through a massive collaborative effort involving the USDA, VCR, NovaVine Grapevine Nursery, UC Davis, Ciel du Cheval Vineyard, and our founder Gino Cuneo, the foundation of our Sangiovese Grosso program began to take root and specific acreage at Ciel du Cheval was set aside for the winery. Following an extensive quarantine protocol at U.C. Davis, the original plant material successfully completed the rigorous testing to qualify for the California Grapevine Registration & Certification Program in 2000 - 5 acres of vines were planted at Ciel du Cheval Vineyard in 2001, making this the first certified planting of any Brunello clone in the United States.
---
Destiny Ridge

---

People: Jarrod & Ali Boyle and Rob Mercer - Grower/Owners
Location: Horse Heaven Hills AVA
Varietals: Barbera, Cabernet Franc Cabernet Sauvignon, Counoise, Grenache, Malbec, Merlot, Mourvedre, Primitivo & Syrah

Acreage under production: 267

Soil: Koehler series, a loam; Hezel series, a loam; Starbuck series, a silty loam; Quincy series, a shallow loam; Burbank series, a shallow rocky loam

Year planted: 1998
---
After several years working as a viticulturist in Washington, Jarrod Boyle noticed a specific piece of property in the Horse Heaven Hills overlooking the Columbia River. In this moment, the seed of a vision for a vineyard was planted. Jarrod mentioned this idea to an old high school friend and, as "destiny" would have it, his friend's family owned the property! What emerged was a business between friends as Destiny Ridge Vineyard established its roots.
Perched atop a bluff just on the southern edge of the Horse Heaven Hills AVA, Destiny Ridge Vineyard possesses a stunning view of the Columbia River, but also boasts more than simple eye-candy. This site produces wine-grapes bursting with complexity, intrigue, and distinction. The vineyard is buffered against temperature extremes, thanks to the air currents from the river and sloping ridgeline, which promote abundant air drainage. Within the vineyard lie four different soil classifications, allowing for unique expressions from the various blocks and grape varietals.
Their fruit has been part of the Cana's Feast program since the 2012 vintage, including some uncommon varieties that are difficult to come by. Whether it's grillin & chillin, skeet shooting, sour-patch kid eating contests, or kicking dirt clods while talking shop, we continue to build great memories every time we visit Jarrod & Company at Destiny Ridge Vineyard.
---
Slide Mountain

---

Owner: Bruce & Gary Morford - Grower/owners
Location: Yakima Valley AVA – White Swan, WA.
Varietals: Cabernet Sauvignon, Cabernet Franc, Merlot & Syrah

Acreage under production: 16

Soil: Unclassified – volcanic blue clay loam on basalt

Planted: 2000
---
More than ten thousand years ago, the cataclysmic Missoula floods covered the Columbia Basin with alluvial sand, silt and loam. In the western end of the Yakima Valley, only the higher elevation lands retained the original, ancient blue-clay soils, known for their superior water retention. For more than a century, families farmed this fertile land, but left the upper slopes untouched given the cooler temperatures and massive expanse of boulders deposited along what was the shoreline of an ancient glacial lake. It's here between 1300-1500 feet elevation, in the year 2000, that 5th generation farmer Bruce Morford planted Slide Mountain Vineyard, standing as an observatory of the geological history of the region. Perched just above this shoreline, on the north-facing slope of an eastward extending spur from the foothills of Mt. Adams, conditions favor the cultivation of slower-ripening, exceptionally-balanced fruit that ultimately gives these remarkable wines their fullest flavor and richest notes.
Winemaker Patrick Taylor first met Bruce Morford in the summer of 2011, recalling that amidst a record-breaking rain event in the Columbia Valley, the serendipitous beginning of the Slide Mountain program at Cana's Feast had begun to germinate in that down-pour. While he and Bruce and another colleague were walking through the vineyard, the sky rapidly turned an ominous dark. Sensing they were about to be caught in an unseasonable deluge, the three made a hasty retreat for the cover of a nearby tractor shed. There they sat for the better part of 2 hours as the torrent continued to shower the countryside with its clean, cool and unrelenting rainfall. The three wisely took the opportunity to open a dusty bottle of port from Bruce's collection of estate wines. Lacking stemware, they passed the bottle to one another taking sips and sharing stories. As the storm passed and daylight abandoned the area, the three said their goodbyes as not just prospective partners but friends. Less than a year later, Bruce and Patrick walked up the same slope, discussing growth habits of Cabernet Sauvignon and planning their first harvest together.
---
Roosevelt Ridge

---

People: Dave Verhey - Grower/Owners
Location: Horse Heaven Hills AVA
Varietals: Malbec

Acreage under production: 12

Soil: Haploxerolls group, a rocky outcrop with shallow fine loam

Year planted: 2008
---
In October of 2010, following an early, deep freeze that devastated countless acres of grapevines across the Horse Heaven Hills appellation (including acreage from another site where we'd been sourcing fruit), we began searching for vineyard sites that would be better buffered against increasing temperature extremes.  In the Spring of 2012, we were introduced to fifth generation Washington farmer Dave Verhey and learned about his recently planted Roosevelt Ridge Vineyard site.
Resting just below one of Dave's cherry orchards, within a few hundred feet of the Columbia River, a series of small, hard to reach terraces turned out to be the ideal place for him to plant the first few acres of Malbec in what would become his Roosevelt Ridge Vineyard. Here, the cool winds gusting up the gorge and off the Columbia River, are not unlike the winds blowing up from the Garonne River sweeping over nearby vineyards in France's Sud-Ouest wine region. These winds keep disease pressure low and have a thickening effect on the skins of our Malbec, allowing for a certain tannic structure not often associated with the variety outside of Cahors, France, where this grape arguably originated as a standalone wine varietal.
---
Andreas Vineyard

---

People: Andreas Wetzel - Grower/Owner
Location: Van Duzer Corridor AVA
Varietals: Pinot Grigio, Chardonnay, Traminer, Moscato

Acreage under production: 29

Soil: Bellpine series, a silty clay loam

Planted: 1990
---
The dryland farmed, L.I.V.E. certified/Salmon Safe acreage of Andreas Vineyard is nestled in a particularly cool setting in the foothills of the Oregon coastal range, near Dallas, Oregon. Growing fewer than 7.5 acres of red wine grape varieties (less than 6 acres of Pinot Noir), Andreas Wetzel focuses more on white wine varietals than reds, so this cooler pocket is the ideal place to grow his wine. Not surprising considering this 4th generation winemaker's German roots (his great-grandfather was a grape grower/winemaker in Wurzburg, Germany), where nearly two-thirds of wine production is from cool-climate, white varieties. Learning the craft of his family through a mix of familial instruction, academic coursework, and the tried and true method of hands-on, trial & error experience, one of Andreas' first defining moments was the decision to plant his own vineyard. This gave him the highest degree of connection to the fruit he would be making into wine, as well as informing his winemaking decisions in the cellar. It follows that we would want such a grower for our Alto Adige-inspired Vaso Bianco white wine blend. The cooler temperatures allow these varieties to develop their fruit character in balance with the natural acidity that make them perfect for this style of wine.
His commitment to the land, to the people he works with, and to the quality of the fruit he grows, is the driving force behind their sustainable agricultural practices.  Andreas put it best when he noted "I'm less interested in having the Organic certification than I am in knowing we are being good stewards of the land".
The vineyard is located in the newly designated Van Duzer Corridor AVA. 
---
Freedom Hill

---

People: Dan & Helen Dusschee, Dustin Dusschee - Grower/Owners
Location: Mt. Pisgah AVA
Varietal: Pinot Noir (Dijon Clone 115)

Acreage under production: 92

Soil: Bellpine series, a silty clay loam

Planted: 1982
---
Located in the foothills of the Oregon coastal range, northwest of Monmouth, Oregon, Freedom Hill Vineyard provides exceptional fruit for some of the most revered wineries in the Willamette Valley. The Dusschee Family embodies the quintessential Oregon wine story - In 1981, Dan and Helen found the perfect spot to plant their dream vineyard, purchased the property, and planted their first 13 acres of Pinot Noir in 1982. Over the next several decades, they continued to plant more acreage, manage the daily details, attract a growing list of client winemakers, and cultivate a reputation for the highest quality of fruit being grown in the Valley. After 35 phenomenal years they passed the tradition on to the next generation. Today, their son Dustin, meticulously manages the same vineyards he used to run through as a child. Using the same commitment to excellence his mother and father exemplified, he continues the tradition of farming, and raising his own children, on that same plot of land.
In 2012, we were given the opportunity to work with some of their excellent fruit. It became readily apparent that this storied vineyard was what we wanted to build our Pinot Noir program upon. Considering the limited nature of the Pinot Noir we produce, we couldn't be happier to work with such quality fruit, grown by such a kindly and knowledgeable family. 

The vineyard will soon be designated as being in the forthcoming Mt. Pisgah AVA. 
---